project
idea
Late Embryogenesis Abundant Proteins: Structural Characterization and Interaction with α-Synuclein is a project idea to develope a new strategy against amyloid aggregation by employing the constituents of molecular mechanisms underlying the phenomenon of desiccation tolerance: Late Embryogenesis Abundant Proteins which may have role in stabilisation of the correct structure of proteins and cell membranes.
project
aims
Producing new recombinant LEAPs
discovering potential of LEAPs originated from the serbian phoenix flower - Ramonda serbica
2020
Conditioning aggregation
of aggregation-prone alpha synuclein and conditioning of the aggregation pathway
2021
Ameliorating the effect
of dehydration-induced damage in liposomes simulating biological membranes
2022
Delivering application
from biotechnology to agriculture (new strategies for crops adaptation to arid climate)
2023
Promising Drug Discovery strategies:
From the ancient resurrection endemic plant to a better medicine
The most common neurodegenerative disorders, Alzheimer's and Parkinson's diseases are tightly associated with the aggregation of alpha-synuclein into insoluble, amyloid fibrils. Despite numerous contemporary studies focused either on identifying small molecules that could interfere with the alpha-synuclein aggregation or on immunotherapies towards amyloid fibrils, the cure for these diseases has not been found yet. A key objective for discovering the effective treatment is to understand the aggregation pathway of alpha-synuclein and its normal and abnormal functions.
Reduction of the aggregation of α-Synuclein by desiccation-related LEA proteins would promote development of the novel strategies to treat neurodegenerative disorders.
LEAPSyn-Sci is financed by the Science Fund, Republic of Serbia 2019.
Find out more about PROMIS initiative.
event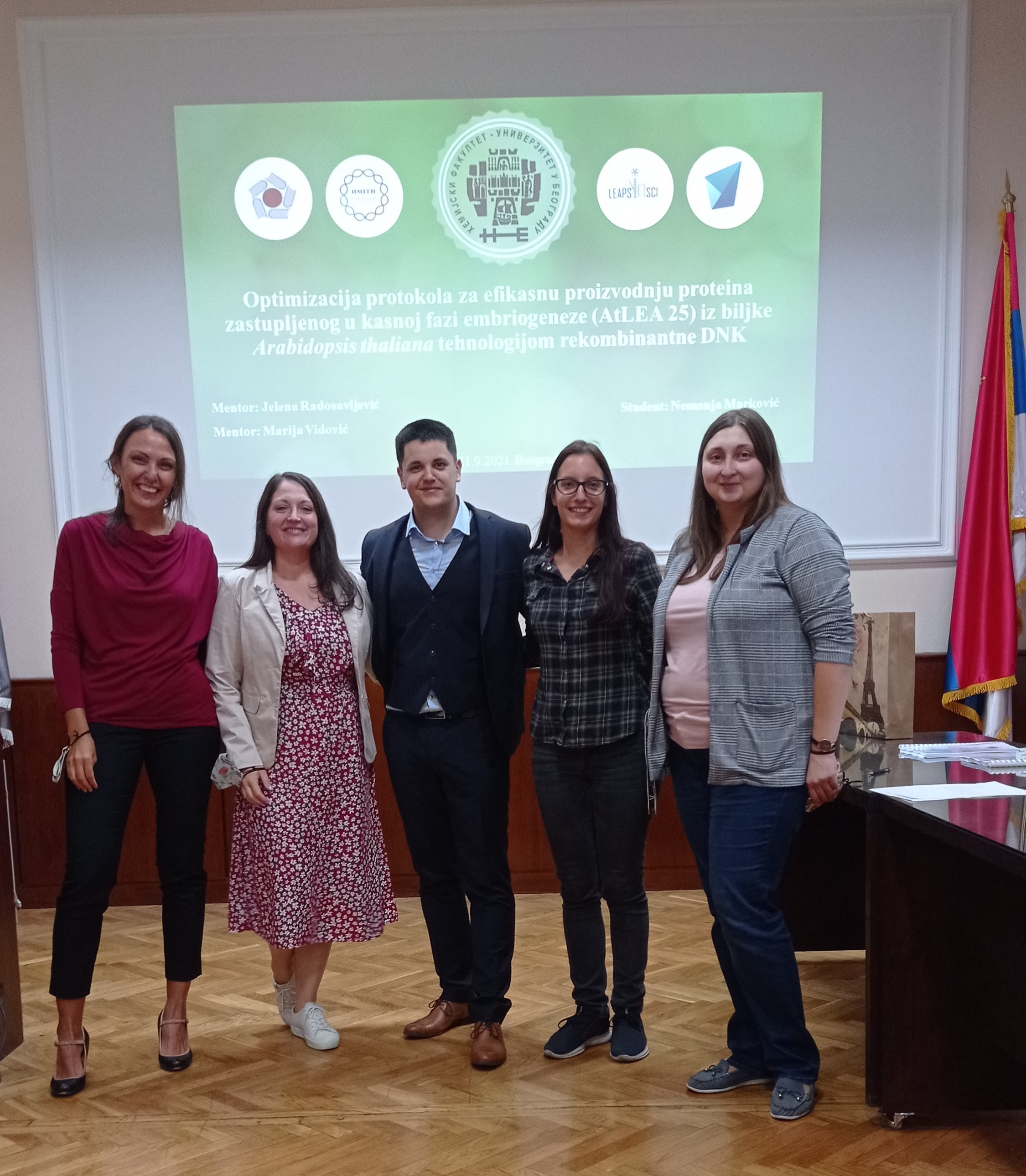 27. 09. 2021.
LEAPSyn-SCI Masters of science !!!
Prošle nedelje naši studenti, Ana Pantelić i Nemanja Marković, su odbranili svoje master teže u okviru našeg LEAPSyn-SCI Promis projekta na hemijskom fakultetu Univerziteta u Beogradu. Eksperimenti su rađeni na #IMGGI i #imsi. Obe teme su za cilj imale rekombinantnu produkciju LEA proteina iz model biljaka Arabidopsis thaliana i Ramonda servis. Protokoli su uspešno optimizovana, a nas čeka finalno prečišćavanje i validacija!🧪⚗️🤞😀 Optimizacija protokola proizvodnje proteina zastupljenog u kasnoj fazi embriogeneze (RsLEA_30) izbiljke vaskrsnice Ramonda serbica tehnikom rekombinantne DNK u bakteriji Escerichia coli. Ana Pantelić. Optimizacija protokola za efikasnu proizvodnju proteina zastupljenog u kasnoj fazi embriogeneze (AtLEA_25) iz biljke Arabidopsis thaliana tehnologijom rekombinantne DNK. Nemanja Marković.
#leapsynsci #fondzanauku #PROMIS #leaproteins #IMGGI #hemijskifakultet #imsi #singidunumuniversity
promotion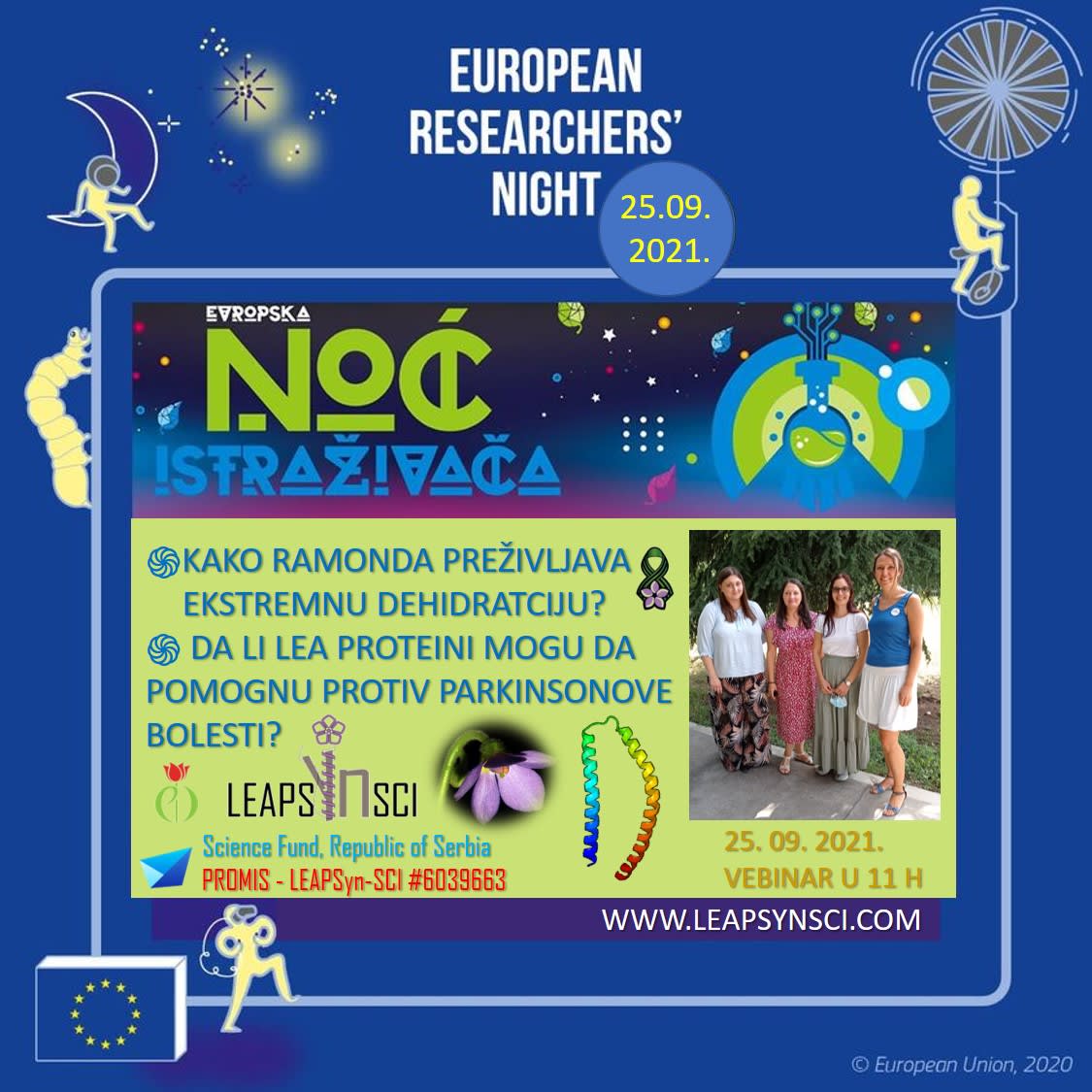 23. 09. 2021.
The first year of our LEAPSyn-SCI
On saturday, september 25th 2021. PROMIS project funded by the Sience Fond of the Repbulic of Serbia, LEAPSyn-SCI managed by Dr. Marija Vidović, will be presented during "Nights of explorers" program at the IMGGE. The project tackles the problem of LEA proteins production from an endemic resurrection plant, Ramonda serbica, and examines their potential to prevent α-synuclein aggregation in order to encourage the development of new therapies in the treatment of Parkinson's disease and similar neurodegenerative diseases based on abnormal peptide / protein aggregation. The project presentation will be held online in the session, starting at 11h. The link for the online presentation is here. Also, subscribe to our channel on youtube to view the other content of the "Nights of explorers" program.
Checkout all LEAPSyn-SCI Activities